Item
has been added to your cart
VERIFY YOUR EMAIL
Please check your email for directions to activate your account.
Reset Password
Please check your email for directions to reset your password.
Welcome to ShaneCo.com. We are proud and pleased to offer an opportunity to experience Shane Co. on-line. As an employee or immediate family member, please read and agree to the following terms and conditions of the WSM employee purchase agreement.
As stated in the WSM Company Handbook, "employees may purchase merchandise at a reduction from normal selling price, provided that the merchandise is solely for either the employee's own use or for that of his or her IMMEDIATE family." Immediate family is defined as follows: Employee's spouse, spousal equivalent, daughter, son, mother, father, sister, brother, grandparent, grandchild, mother-in-law, father-in-law, son-in-law, daughter-in-law, brother-in-law, sister-in-law, step-parent, or step-child, or a person who is legally acting in one of the above capacities, or another relative living in the employee's residence.
Employees are eligible for the employee discount privilege after receipt of their first pay stub from Western Stone & Metal.
I understand and agree my password is unique to me and cannot be shared with anyone.
I agree I will not purchase any merchandise for the purpose of resale.
I agree I will not purchase any merchandise in proxy for others.
I agree I will not distribute or share, and will keep the employee price confidential.
Any misuse of this employee benefit will result in the loss of such benefit to the employee and all qualified family members stated above, as determined by the VP of Human Resources.
Any employee violation, or violation by a family member, of the Company's EMPLOYEE PURCHASE POLICY, Section IV-L of Company Handbook could result in progressive counseling action being taken with the employee up to and including termination.
Email Us
All fields are required unless marked "Optional"
To contact a store directly, please visit the
Store locator
.
Thank You !
Your email has been sent
We Make It Easy to Find Your Ring Size
You found the perfect ring and you want it to fit! Do you know what your finger size is? Here are some friendly tips to measure your ring size at home and ensure your ring is the correct size.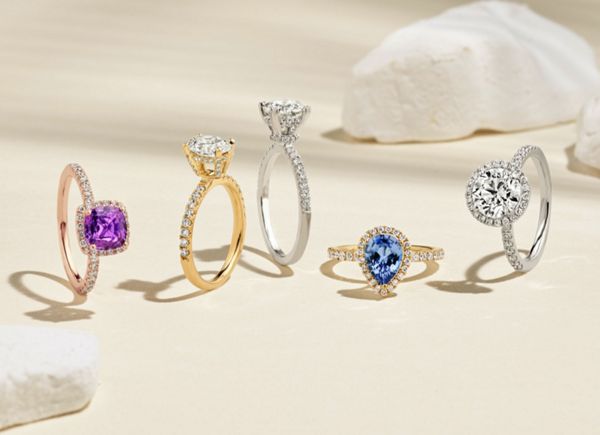 Tips for Finding a Ring that Fits
Tips for Finding a Ring that Fits
Time of day can affect your ring size. It's usually best to measure in the morning.

Did you know your dominant hand is usually larger? Ring size varies from right to left hand, so make sure you measure the finger you plan to wear the ring on, whether that's your ring finger or pinky finger.

Wider bands have a tighter fit, and you might want to size up.

Did you know your knuckle is bigger than the rest of your finger? Take knuckle size into account, making sure you choose a size that can get over it, but isn't too loose.

Fingers shrink when cold and expand when hot based on your activity or the season.

Some rings can't be resized because of the metal type or style.