Item
has been added to your cart
VERIFY YOUR EMAIL
Please check your email for directions to activate your account.
Reset Password
Please check your email for directions to reset your password.
Welcome to ShaneCo.com. We are proud and pleased to offer an opportunity to experience Shane Co. on-line. As an employee or immediate family member, please read and agree to the following terms and conditions of the WSM employee purchase agreement.
As stated in the WSM Company Handbook, "employees may purchase merchandise at a reduction from normal selling price, provided that the merchandise is solely for either the employee's own use or for that of his or her IMMEDIATE family." Immediate family is defined as follows: Employee's spouse, spousal equivalent, daughter, son, mother, father, sister, brother, grandparent, grandchild, mother-in-law, father-in-law, son-in-law, daughter-in-law, brother-in-law, sister-in-law, step-parent, or step-child, or a person who is legally acting in one of the above capacities, or another relative living in the employee's residence.
Employees are eligible for the employee discount privilege after receipt of their first pay stub from Western Stone & Metal.
I understand and agree my password is unique to me and cannot be shared with anyone.
I agree I will not purchase any merchandise for the purpose of resale.
I agree I will not purchase any merchandise in proxy for others.
I agree I will not distribute or share, and will keep the employee price confidential.
Any misuse of this employee benefit will result in the loss of such benefit to the employee and all qualified family members stated above, as determined by the VP of Human Resources.
Any employee violation, or violation by a family member, of the Company's EMPLOYEE PURCHASE POLICY, Section IV-L of Company Handbook could result in progressive counseling action being taken with the employee up to and including termination.
Email Us
All fields are required unless marked "Optional"
To contact a store directly, please visit the
Store locator
.
Thank You !
Your email has been sent
Men's Wedding Bands
Total Carat Weight

1/2 ct. t.g.w.

575

Total Carat Weight

.10 ct. t.w.

2,425

Metal Type

Black Zirconium

920

Total Carat Weight

1/4 ct. t.w.

3,025

Total Carat Weight

1/4 ct. t.w.

3,025

Metal Type

Platinum and Yellow Gold

1,690

Total Carat Weight

.16 ct. t.w.

2,225

Total Carat Weight

1/5 ct. t.w.

2,025

Total Carat Weight

1/2 ct. t.g.w.

2,177

Metal Type

Tantalum & White Gold

795

Metal Type

Tantalum & Yellow Gold

795

Metal Type

Tantalum & Titanium

445

Metal Type

Titanium and Tantalum

515

Metal Type

Tantalum and 14k Yellow Gold

1,115

Total Carat Weight

1/2 ct. t.g.w.

895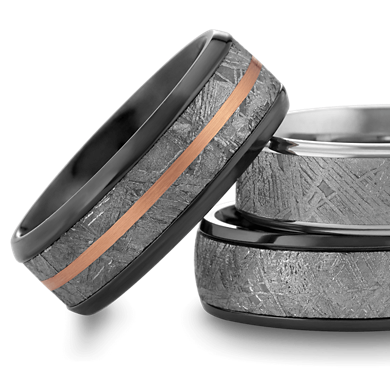 Men's Wedding Bands
Unique looks. Coveted metals. This is what legends are made of. From classic looks, like yellow gold, platinum and fully faceted diamond accents, to alternative choices, like rare meteorite, exotic Damascus steel and hand-matched black sapphires, Shane Co. has every trend for every taste.
Men's Wedding Bands from Shane Co.

Finding the perfect ring for your big day and the lifetime of love ahead of you is an important task but also a joyful one. Browse our quality selection of men's wedding bands from simple rings to one-of-a-kind designs created with wood inlays, engraving, ionic plating and other unique accents.

What are the most common metal types for men's wedding rings?

The most popular metals for men's wedding bands are platinum and gold. Shane Co. carries a variety of gold shades including rose, yellow and white gold men's wedding bands. We also offer a large collection of other precious metals such as cobalt, titanium, Damascus steel and meteorite bands. Choose a single shade of metal with accents or a two-tone style blended with more than one metal.

When shopping for unique men's wedding bands from Shane Co., you can select from these metal types:

• White gold: This is one of the most popular options for men's wedding bands because of its sophisticated look.
• Rose gold: Rose gold is a less-traditional choice, but offers vintage appeal favored by men who want a distinctive look.
• Yellow gold: Yellow gold wedding bands offer the warm glow that is often preferred for classic men's wedding bands.
• Titanium: This strong and durable material features a lighter weight and a darker sheen.
• Platinum: This is a popular type of men's wedding ring because it is durable and extremely rare. Many appreciate platinum men's wedding rings because they're hypoallergenic and don't cause skin reactions.
• Damascus steel: The steel used in these wedding rings features distinctive, one-of-a-kind wavy surface patterns.
• Meteorite: We offer rings made of authentic meteorite. Each style is unique because no two pieces of meteorite are identical.
• Silver and gold: Some of our wedding rings for men have both sterling silver and gold.
• Tri-tone gold: A tri-tone gold ring offers rose, yellow, and white gold in one piece.
• Cobalt: Cobalt is a bright, white, hard metal with a silver-gray sheen.

Do men's wedding bands incorporate gemstones?

Modern wedding bands utilize all types of materials, and many of our men's wedding rings include beautiful gemstones. Shane Co. offers rings for men in hundreds of distinctive styles with diamonds, sapphires and rubies. All of our stones and diamonds are ethically sourced, hand-matched and hand-picked in Antwerp, Tel-Aviv and Bangkok.